General Actor Information
Born:
October 31, 1945
Birthplace:
Chicago, Illinois, U.S.
Vitals
Gender:
Male
Species:
Human, still
Height:
5'8"
Hair color:
Bald
Occupation:
Actor
Years active:
1973 to present
Personal/Family Information
Spouse(s):
Christina Stauffer (2000 to present)
Related to:
Bill, Joel, and John Murray (brothers)
Series Involvement
Character on MWC:
Wayne in "Kelly Doesn't Live Here Anymore" (Season 7)
Brian Doyle-Murray (born Brian Murray, October 31, 1945) is an actor, comedian and voice actor best known for his roles on various shows and films, including Saturday Night Live, The Middle, Groundhog's Day, Ghostbusters II and Sullivan and Son, as well as being the older brother of fellow actor Bill Murray.
He appeared as Wayne on Married... with Children in the season 7 episode, "Kelly Doesn't Live Here Anymore".
Early Life
[
]
Born to an Irish-American family, he grew up as one of nine children that include actors Bill, Joel and John Murray. He attended Saint Mary's College of California during the 1960s.
Acting Career
[
]
He began acting in the 1970s with The Second Stage comedy stage troupe and also making regular appearances on The National Lampoon Radio Hour Show from 1973 to 1975.
From 1979 to 1980 and then from 1981 to 1982, he was a featured player on Saturday Night Live.
He appeared in various films during the 1980s, many with his younger brother, Bill, including Caddyshack, Scrooged and Ghostbusters II. He also appeared in other well know films during this time, such as Sixteen Candles, National Lampoon's Vacation, and The Razor's Edge.
During the 1990's, he continued appearing in films with his brother, such as Groundhog's Day and other films and television series, such as Get A Life, Bakersfield P.D., Cabin Boy, Jury Duty and Seinfeld. He also appeared in Wayne's World as the arcade owner, a film which also stared Ed O'Neill and Tia Carrere.
In the 2000s he became well known for his role as the Flying Dutchman on Spongebob Squarepants, Mr. Stavitsky on Yes, Dear and Jack the barber on King of The Hill. He also appeared on Family Guy and Adventure Time.
Most recently, he can be seen on The Middle as Mr. Elhart and Sullivan and Son as Hank Murphy.
Appearance on Married...with Children
[
]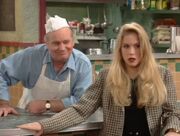 He appeared on MWC in the season 7 episode, Kelly Doesn't Live Here Anymore, as Wayne, the cook and owner of the diner that Kelly works at. After seeing how terrible she is at her job, he tells her that she is the dumbest person he has ever met, before asking her out on a date. He also appears to be nonchalant when it comes to food safety, as he gladly admits that he uses dead rats to make "Cajun Fries".
Trivia
[
]
He and his brothers own "Murray Bros. Caddyshack Restaurant", a golf-themed restaurant located inside World Golf Village in St. Augstine, Florida.
He is known for his gravelly voice
He, along with Dan Castellaneta and Fred Willard, is a Second City alumnus who also guest starred on MWC.
External Links
[
]