Bubbles getting "interviewed" by NO MA'AM founder Al in the episode "NO MA'AM" in Season 8 of MWC.

Gender:
Female
Occupation:
Buxom, but ditzy stripper at The Jiggly Room who appears with the NO MA'AM guys on The Masculine Feminist show hosted by Jerry Springer
Appeared on:
Married... with Children
Character played by:
Lisa Boyle
Bubbles Dee Dee was a character who appeared in the Season 8 MWC episode titled "NO MA'AM". The part of Bubbles is played by actress and former Playboy model Lisa Boyle, who also plays the part of Fawn, one of Kelly's friends, in five episodes in Seasons 8-10.
Description
Edit
When Al and his buddies get together and form NO MA'AM out of a spiteful and angry response to Marcy D'Arcy and TV talk show host Jerry Springer, who hosts a local show called The Masculine Feminist, who had The Jiggly Room turned into a Coffee house, and for having their night at Jim's Bowl-A-Rama bumped for Women's night, they bring out all stops to get their voice heard as they hold Springer hostage on his own show set, which includes when host of the segment Al brings out the lovely, but ditzy Bubbles Double Dee, who worked at The Jiggly Room and whom apparently got her name from her bra cup size. All of the men in the audience, who were supporters of the views of Al and NO' MAAM, ogled at the hot looking Bubbles; in the segment where Al takes questions, two guys ask her to "jump up and down" just to see her breasts bounce in that direction!
When Al asks Bubbles what she thought of the Roe v.Wade case, she, not being much up on current events, responds, "Gee, I don't know that much about boxing...But I'd like to go out to dinner with whoever wins!"
Appearances
Edit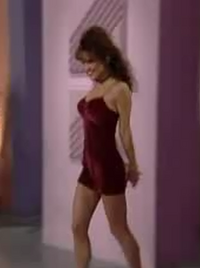 Community content is available under
CC-BY-SA
unless otherwise noted.