Look Who's Barking is the 14th episode of season 5 of Married with Children, also the 94th overall series episode. Directed by Gerry Cohen and written by Kathering Green, the episode first premiered on FOX, airing on February 10, 1991. The episode also featured a guest appearance from legendary Blues/R&B singer B.B. King, who performed the song Blues For A Dog.
Synopisis
Edit
Buck the dog (voiced by Cheech Marin in this episode) runs away and takes home a white female dog who plots to replace him as the family pet. Meanwhile, Al searches for his favorite cheesecake chef. B.B. King makes a cameo appearance as a street musician.
Plot summary
Edit
Told from the point of view of Buck, he runs away from the house feeling neglected. Behind a diner, he picks up a female dog, whom he brings home. He quickly regrets it, as the new dog gets all the attention from Bud and Kelly. Meanwhile, Al is obsessed with getting a taste of his favorite cherry cheesecake from a restaurant in Wisconsin.
Guest starring
Edit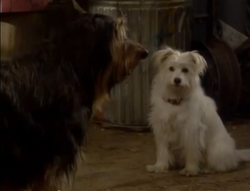 *The title of the episode is a reference to the 1989 film,
Look Who's Talking
During Al's search for Hans, he found out that he had left Chuck's Cheese Bowl years before and after working for different restaurants, was back in Germany. Yet, when Hans finally appears at the Bundy house, he gives them the cheesecake in a Chuck's Cheese Bowl box.
External Links
Edit
Community content is available under
CC-BY-SA
unless otherwise noted.