Magnificent Seven was the Season 7 premiere episode of Married... with Children that aired on FOX on September 13, 1992, also the 132nd overall episode of the series. The episode, directed by Gerry Cohen, was written by Arthur Silver.
In this episode a new member of the Bundy clan is introduced. Peg's cousins (played by Linda Blair and Bobcat Goldthwait) visit and end up leaving behind their son, Seven (Shane Sweet), dumping him on the Bundys, of whom the only one who is pleased about it is Peg, who looks at it as another chance at mothering.
Short Summary
Edit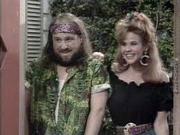 The Bundys suddenly have another mouth to feed when Peggy's backwards cousin Zemus Wanker and his wife, Ida Mae, pay a quick visit and leave behind their five-year-old son Seven (who they named because he was their seventh kid, although when counting how many they had, they forgot the number six), who's captivating to Peggy (and only Peggy). She sees this as her chance to be a "great mother"... or at least another try.
The purpose of their visit is to leave behind their son with the Al and Peg; they manage to do it on the premise of "going out to get some cigarettes". Meanwhile, Al is desperate and he has to take a solo road trip to Georgia to try to track Seven's parents in a forlorn attempt to avoid having to support yet another family member. Al arrives back and seeing how Peggy and Seven are with each other, Al lies and says he couldn't find them, and they'll just have to raise him themselves.
Guest stars/Recurring cast
Edit
Cast regulars
Guest starring
Edit
Community content is available under
CC-BY-SA
unless otherwise noted.