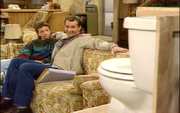 The Ferguson Toilet is Al's favorite toilet, that has what Al calls "a man's flush".[1]
When Al decides to build his own bathroom, he decides to bring home a Ferguson, saying that when he was growing up, he promised himself that he would have a toilet bowl just like his dad did. He tells Bud about the fond memories he had with his father and his love for the Ferguson. Al claims when he was a boy, he had to go to the bathroom while sitting in a truck with his father as they were heading to the Ferguson factory in the state of Maine. His father made him wait two hours, but promised it would be worth it. Al says it was the first time he used a Ferguson, and that it was worth it.[1]
Bud tries to write it off as just being another toilet, but Al explains to him what makes it so special, that he thinks of it as "the king of bowls" and "the Stradivarius of toilets":
"Bud, the toilets of today aren't worthy of the name. They come in designer colors and they're too low. And when you flush them, they make this little weak, almost apologetic sound. Not the Ferguson. It only comes in white. And when you flush it, 'BA-WOOSH'. That's a man's flush, Bud. A Ferguson says, 'I'm a toilet. Sit down and give me your best shot'."
Later, Peggy redecorates the bathroom against Al's wishes and adds a feature to the toilet so that when it's flushed it plays We've Only Just Begun, their wedding song. She also put pink fur on the toilet, turning his "once mighty Ferguson" into "Fergie". Al reclaimed the toilet by backing up the pipes with his defecation.[2]
References
[
]