Christopher Pallies (a.k.a. King Kong Bundy)

General Actor Information
Birth Name:
Christopher Alan Pallies
Also known as:
King Kong Bundy
Chris Canyon
Big Daddy Bundy
Born:
November 7, 1955
Birthplace:
Atlantic City, New Jersey, United States
Died:
March 4, 2019 (age 63)
Deathplace:
Glassboro, New Jersey, United States
Vitals
Gender:
Male
Height:
6' 4" (1.93 m)
Weight:
458 lbs.
Hair color:
Bald
Brown (formerly)
Occupation:
Wrestler, actor
Years active:
1981 - 2007 (wrestling)
1985 - 2014 (acting)
Also known for:
Portraying "King Kong Bundy"
Personal/Family Information
Series Involvement
Character on MWC:
Uncle Irwin (Wanker) in All in the Family (season 2)

King Kong Bundy in Flight of the Bumblebee (season 10)
Christopher Alan "Chris" Pallies (November 7, 1955 ~ March 4, 2019) was an American professional wrestler, stand-up comedian and actor, better known by his ring name, King Kong Bundy and the inspiration for the family name on MWC.
He appeared twice on the show, as his wrestling character in Flight of the Bumblebee and as Peggy's brother, Uncle Irwin in All in the Family.
Early Life
[
]
He grew up in Washington Township, N.J.. He graduated from Washington Township High School in 1973 before embarking on his wrestling career.
Wrestling Career
[
]
After training under Larry Sharpe at the "Monster Factory", he debuted in the professional wrestling scene on March 7, 1981. At the time, he used the wrestling name, Chris Canyon, sporting brown hair and wearing jeans tied with a rope. In 1982, he moved to Texas and wrestled with the World Class Championship Wrestling (WCCW) under the moniker "Big Daddy Bundy", with his character developed by the Von Erich family. After a dispute with the Von Erichs, he was recruited by "Playboy" Gary Hart and dramatically reintroduced as "King Kong Bundy", with a now bald look and wearing a singlet. This look would be his signature look for the rest of his wrestling career. He would continue moving around different wrestling circuits such as National Wrestling Alliance (NWA) during the early to mid 1980s. During this time, he also created a gimmick where he would convince the referees to count to five instead of the standard 3 when pinning, to show his dominance against his opponents.
He debuted for the World Wrestling Federation (WWF) on March 16, 1985. He began feuds with wrestler Hulk Holgan, which eventually to King Kong Bundy losing to Holgan in a Steel Cage match. He would then participate in tag matches before going into semi-retirment from the company in 1988. This would lead to him appearing in a handful of matches, until 1994, when he returned and wrestled under The Million Dollar Corporation stable, led by "The Million Dollar Man" Ted DiBiase. He participated in a few Wrestlemania events before leaving the WWF for good in 1995.
Following his departure from the WWF, he continued wrestling in several independent circuits. He eventually announced his retirement from wrestling in May of 2007.
In 2016, he was part of a group of over 50 wrestlers who took a lawsuit against the WWE in 2016. The former WWE fighters claimed to suffer from long-term brain damage due to the constant impact. The case was eventually dismissed by a US district judge in September 2018.
A few hours before his death, he had tweeted that was going to take part in Wrestlecon, an annual convention designed to showcase WWE stars from the past and present, next month.
Personal Life
[
]
Despite typically playing the heel (villain) in his matches, backstage, he was known to have a great sense of humor and enjoyed having a laugh with his fellow wrestlers. He was also viewed by fellows wrestlers and fans as one of the nicest people around outside of the ring.
He was known to be a big fan of cats, having adopted 10 cats by the time of his death
Appearances on MWC
[
]
He appeared in two different roles on MWC in season 2 and season 10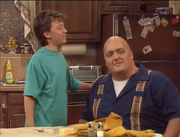 In season 2, he played Uncle Irwin, a friendly, but rather dimwitted man who constantly forgets things. He is admired by Bud, who constantly asks his uncle if he would run his head into something. He promises that he would only if Bud is good. He is shown to be constantly bickering with his brother, Unlce Otto, who, in contrast is thinner and more effeminate. Despite their problems, they team up to record over Al's recording of Hondo with footage of them singing "You Are So Beautiful" to Peggy. After all the bickering and missing Hondo yet again, Al eventually becomes fed up with Peggy's relatives and takes out a gun to kill them, until it is revealed that the majority of the episode was just a dream. After Al wakes up, Peggy reveals that her relatives are coming over, with Irwin smashing the front door with his head to reveal that they have arrived.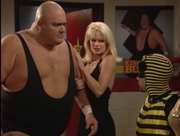 In season 10, he plays himself, where he is in town to wrestle Captain Ecology at WrestlePalooza. Bud, who is trying to join NO MA'AM, attempts to go meet the wrestler and get a picture with him, as Al and the other NO MA'AM members admire the wrestler and even made him an honorary member. After sneaking into the arena and finding out that Captain Ecology has backed out, Kelly convinces King Kong Bundy that Bud, who is in costume as "The Bumble Bee", should fill in. In the ring, Bud drops to his knees and pleads with him that he doesn't want to die. He promises Bud that he will go easy on him since he is going to make him look good in front of the audience. Unfortunately, King Kong Bundy's kick with Bud attached to his leg sent him flying into the ropes that then bounced him back, hitting King Kong Bundy from the back and upsetting him. He eventually defeats Bud, which leaves him badly injured and missing a tooth.
Death
[
]
Pallies died on March 4, 2019 due to complications from diabetes.
External Links
[
]