Al finds a new buddy in Marcy's "identical" cousin Mandy in "Lez Be Friends" in Season 11 of MWC.
Season 11, Episode # 20
Number (#255) in series (259 episodes)
Guest star(s)
Amanda Bearse (Mandy)


Elaine Hendrix

Network:
FOX
Production code:
11.20
Writer(s)

Pamela Eells

Director
Gerry Cohen
Taping date
March 14, 1997
Original airdate
April 28, 1997
IMDb
Lez Be Friends
Episode chronology
← Previous
Next →
"Birthday Boy Toy"
"Damn Bundys"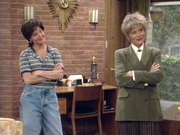 Lez Be Friends is the 20th episode of Season 11 of Married... with Children. It is the 255th overall series episode. Directed by Gerry Cohen and written by Pamela Eells, it premiered on FOX-TV on April 28, 1997.
Synopsis
[
]
Marcy's cousin, Mandy (Amanda Bearse in a dual role) comes to town and befriends Al. Marcy being very jealous of her cousin asks Al to keep her away from Jefferson. Later Mandy reveals that she is a lesbian (in real life, Bearse herself is a lesbian) to Al and then to Marcy, which makes her very angry. Al manages to console Marcy into accepting Mandy.
Plot Summary
[
]
When Marcy's cousin, Mandy, comes over for the weekend, she's really excited. But she and Peg gets upset when Mandy, who also comes out of the closet for being lesbian, spends too much of time with Al and Jefferson, who are fond of her. Marcy reveals to Al that she is jealous of Mandy because people like her better and his reluctant answers to better qualities she has than Mandy helps the two make up. Meanwhile, Kelly and Bud try to set up Lucky with another dog because of his depression. When the owner of the other dog, Elaine, looks very attractive, Bud soon tries to seduce her. Lucky acts rude towards the dog, ruining Bud's chances with Elaine. Later, Kelly returns home with a happy Lucky and his new friend from the park, a male bulldog dressed in leather biker clothing.
Recurring Cast/Regulars
[
]
Guest starring
[
]
Notes
[
]
Title
[
]
The title of this episode is a reference to the expression "Let's be friends" and "Lez", a shortened form of "Lesbian" that is typically viewed as an insult/slur.
Trivia
[
]
Elaine Hendrix, who plays the owner of Frisky, previously appeared on MWC as Sandy in the season 9 episode "User Friendly"
Marcy finds out her cousin Mandy (both played by Amanda Bearse) is a lesbian, and is shocked by the revelation. In actuality, Bearse herself is gay, having revealed it in 1993.
As of this episode, all actors who were in the regular cast for the entire run of the series have played dual roles within a single episode:
The laugh tracks of this episode were pre-recorded as Amanda Bearse played dual roles and the scenes involving Marcy and Mandy were too complex and time consuming to be filmed in front of a live audience.
Ten days after the airing of this episode, another sitcom, ABC's Ellen, featured its' main character coming out as a lesbian in the episode, "The Puppy Episode". The episode was highly controversial at the time and even featured a parental advisory warning at the beginning.

The star of the show, Ellen DeGeneres, had publicly come as being a lesbian shortly before the episode aired.

Although this episode reveals that Marcy's cousin is a lesbian, there were several subtle hints during season 11 that alluded to the topic of this episode and/or Amanda Bearse being a lesbian:

"Requiem for a Chevyweight (Part 2)" - Both Al and Fidel Castro say that Marcy looks like "that kid from 'Home Improvement'".
"Breaking Up Is Easy to Do (Part 2)" - As Marcy parades around the Bundy living room and sings "Al Bundy Away", she places emphasis on the last part of the lyrics, "I never felt - so gay!".
"Live Nude Peg" - After Peggy says that she feels so lonely and hasn't been touched in awhile, Marcy puts her arm around her to comfort her. Peggy looks at Marcy's hand placement and smirks for a moment, before saying "You know, Marcy, that boyish cut really becomes you". Marcy then quickly pulls her arm away in embarrassment and refocuses on the topic of Al going to The Jiggly Room.
Cultural References
[
]
When talking about cousins who are identical, "Samantha and Serena" and "Patty and Cathy" are mentioned, referring to the tv series "Bewitched" and "The Patty Duke Show". Also, Marcy sings the "The Patty Duke Show" opening after discussing identical cousins.
When Mandy first arrives and Al thinks that its Marcy with a wig, he calls her the "Fifth Beatle", a term used to refer to someone who was a former member of or had a strong connection to the British band, The Beatles.
When Al tries to see if there is any woman that Mandy would reject to sleep with Al instead, he mentions:

Cindy Crawford - Model and actress who was one of the top supermodels during the 1990s.
Phyllis Diller - Actress / Comedian known for her self deprecating humor and numerous plastic surgeries. She was also considered an icon in the gay community.
Marge Schott - Owner of the Cincinnati Reds baseball team from 1984 to 1999. At the time this episode originally aired, Schott had been banned from managing the Reds from 1996 to 1998, due to statements regarding Adolf Hitler as well as past incidents involving racist remarks and unprofessional behavior. She eventually sold her share of the team in 1999.
Music
[
]
Marcy sings a variation of the theme song for The Patty Duke Show.
"Puppy Love" by Paul Anka is played when Lucky and Frisky start their date as Bud and Elaine make out on the couch.
Locations
[
]
Sets
[
]
Bundy Living Room / Kitchen
Marcy & Jefferson's Bedroom
Goofs
[
]
Mandy curls up and goes to sleep on the Bundy's couch. When she is awoke by Jefferson knocking on the door, she now has a pillow and blanket.
During the close up shots of Mandy and Marcy, whenever the camera goes behind Mandy to show Marcy's face at the same time, it is clearly a different person, as the acting double has a noticeably lighter skin tone compared to Marcy.