General Actor Information
Birth Name:
Michael Gerald Hagerty
Born:
May 10, 1954
Birthplace:
Chicago, IL. USA
Vitals
Gender:
Male
Height:
6' 2"
Occupation:
Actor
Years active:
1983-present
Website/URL:
http://www.mikehagerty.com/
Personal/Family Information
Series Involvement
Character on MWC:
The Coroner
Episodes appeared in:
You Better Watch Out
Mike Hagerty
(Born May 10, 1954) is an American-born TV actor, known for his mustache and thick Chicago accent and usually playing a blue collar worker.
He appeared on Married...with Children as the coroner in the season 2 episode You Better Watch Out.
Acting Career
Edit
He began his acting career in the early 1980s and appeared on various TV shows such as Cheers, Family Ties and and major films such as Overboard and Red Heat.
During the 1990s, he had various roles on TV, some of them recurring, such as Drexler's Class, Seinfield, The Drew Carey Show, The George Carlin Show and Star Trek: The Next Generation. During the 1990s and into the early 2000s, he had a recurring role on the NBC show, Friends, as Mr. Treeger, the building superintendent. During this time, he also had roles in various films such as Dick Tracy, Wayne's World, So I Married An Axe Murderer, Austin Powers: The Spy Who Shagged Me and Inspector Gadget.
During the 2000s, he has continued acting in shows such as ER, American Dad, Angel, Lucky Louie and Curb Your Enthusiasm.
In recently years, he has appeared on shows such as The Goldbergs, Brooklyn Nine-Nine, Shameless, Glee and The Mindy Project.
Appearance on MWC
Edit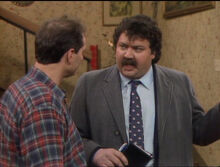 He appeared in the second season episode, You Better Watch Out, as the coroner who is sent to retrieve the body of Santa Claus from the Bundy's backyard. As he and his men are about to take the body out the door, they see a group of neighborhood kids waiting to see Santa. He then convinces Al to dress up as Santa and make the kids think that Santa is fine.
Community content is available under
CC-BY-SA
unless otherwise noted.