Nesuim Plus (נשואים פלוס)

Created By:
Michael G. Moye
Ron Leavitt
Network:
Mako TV (Israeli TV Channel)
Airdates:
May 7, 2012 (Premiere)
April 25, 2017 (Finale)
Season(s):
2
Episodes:
50
Starring:
Lior Ashkenazi (ליאור אשכנזי)
Dorit Bar-Or (דורית בר-אור)
Noa Wolman (נועה וולמן)
Alon Sandler (אלון סנדלר)
Tamar Keynan (ותמר קינן)
Shlomi Koriat (שלומי קוריאט)
Related shows:
Married... with Children
Nesuim Plus (נשואים פלוס) (Married Plus) was an Israeli adaptation of the American sitcom Married... with Children and ran for 50 episodes on the Israeli TV channel Mako TV from 2012 - 2017. The series was a literal translation of the original series, only with Israeli actors. All dialogues and gags were taken from the original translated scripts, except for the names which were changed to Hebrew ones. Al Bundy became Shuki Avrahami (שוקי אברהמי), Peggy was named Mali (מלי), and the children's names were Osher (אושר) and Meital (מיטל) instead of Bud and Kelly.
The first season, which consisted of 18 episodes, was broadcast between May and August of 2012. Though it received negative reviews, the series returned for a second season on February 22, 2015, with 32 episodes. Due to several breaks in broadcast times throughout the season, the last episode did not air until April 25, 2017. The second season also received negative reviews.[1]
The series theme song was "Ahava Pshuta" by Kol Hakavot.
Synopsis
Edit
Israeli adaptation of the legendary series "Married With Children", the satirical comedy that conquered the audience and became one of the most successful series in history. In Israel, the Bundy family became the Avrahami family - a moderately-inferior, dysfunctional family that lives in a gray neighborhood in the Krayot. They are poor, bitter, socially challenged and do not recognize the term "politically correct."
Characters
Edit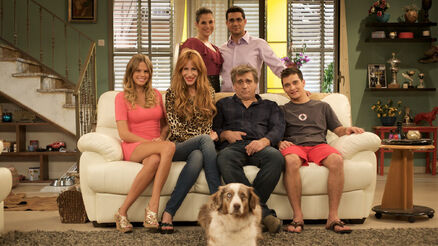 | Actor | Role | Original |
| --- | --- | --- |
| Lior Ashkenazi (ליאור אשכנזי) | Shuki Avrahami (שוקי אברהמי) | Al Bundy |
| Dorit Bar-Or (דורית בר-אור) | Mali Avrahami (מלי אברהמי) | Peggy Bundy |
| Noa Wolman (נועה וולמן) | Meital Avrahami (מיטל אברהמי) | Kelly Bundy |
| Alon Sandler (אלון סנדלר) | Osher Avrahami (אושר אברהמי) | Bud Bundy |
| Tamar Keynan (ותמר קינן) | Efrat Kalderon (אפרת קלדרון) | Marcy Rhoades |
| Shlomi Koriat (שלומי קוריאט) | Eran Kalderon (ערן קלדרון) | Steve Rhoades |
Season 1
Edit
Season 2
Edit
References
Edit
↑ Married... with Children on Israeli Wikipedia (translated to English)
↑ Nesuim Plus on MakoTV