Tina Caspary in 2015

General Actor Information
Born:
December 28, 1970
Birthplace:
California, United States
Vitals
Gender:
Female
Occupation:
Actress, dance teacher
Years active:
1982-1989; 1992–present
Also known for:
"Barbara" in Can't Buy Me Love (1987)
Personal/Family Information
Spouse(s):
Ryan Cyphert
(m. ?–present; 2 children)
Series Involvement
Character on MWC:
Kelly Bundy in the Unaired Pilot
Tina Caspary (born December 28, 1970) is an American actress, dancer, and choreographer and dance instructor. She gained moderate attention in the late 1980s with a supporting role in Can't Buy Me Love.
She appeared on Married... with Children in the Unaired Pilot as Kelly Bundy.
Caspary was raised in Southern California. She developed an interest in dance at a young age, along with her younger brother, Dewitt "Dee" Caspary, a choreographer/dancer. Caspary is married to Ryan Cyphert.[1]
As a child then a teen actor in the mid to late 1980s, Caspary had minor roles on television and movies. Her first role was as a dancer in the 1982 movie Annie, then appeared three years later on an episode of the TV series Silver Spoons.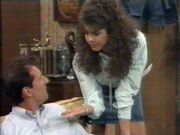 In December 1986, the 15-year-old Caspary played the role of Kelly Bundy opposite Hunter Carson as Bud Bundy in the un-aired pilot episode of Married... with Children. However, when the show's producers felt Caspary's acting didn't fit the role, she was replaced by Christina Applegate.
Caspary's performance in the 1986 TV movie News at Eleven earned her a nomination for a Young Artist Award in the Exceptional Young Actress Starring in a Television Special or Movie of the Week category. Her 1987 supporting role in Can't Buy Me Love earned a second Young Artist nomination, for Best Young Actress in a Motion Picture - Comedy. Caspary's starring role in 1988's Mac and Me earned her a third Young Artist Award nomination.
Caspary quit acting after two teen roles in 1989's My Mom's a Werewolf and Teen Witch, re-focusing on dance. She has appeared in music videos by Red Hot Chili Peppers and Reba McEntire, and was a principal dancer on the Academy Awards show for five years, working with Debbie Allen.[1]
In 1996, Caspary launched a line of dance clothing called Katrina Activewear.[2] Caspary and her husband, Ryan Cyphert, are on the faculty of SHOCK the Intensive, a company that provides intense one-day dance training programs across the United States.[3]
Community content is available under
CC-BY-SA
unless otherwise noted.