General Actor Information
Born:
May 5, 1973
Birthplace:
Whittier, California, USA
Vitals
Gender:
Female
Height:
5'6"
Hair color:
Black (formerly blonde)
Occupation:
Actress, singer
Years active:
1981–1995, 2012–present
Personal/Family Information
Spouse(s):
Robert Kaiser
Related to:
Robert Yothers (Father), Jeffery Yothers (Brother), Randy "Poindexter" Yothers (Brother), Cory "Bumper" Yothers (Brother)
Children:
Lillian "Lilly" Grace Kaiser, Robert Jake "Jake" Kaiser
Series Involvement
Character on MWC:
Herself in Kelly's Gotta Habit
Tina Yothers (born on May 5, 1973) is an American actress and singer, best known for her role as Jennifer Keaton on the 1980s sitcom, Family Ties.
Biography
Edit
Growing up in a family based in the entertainment industry (her father Robert was a TV producer and her brothers had starred in commercials and movies), she started her acting career at the age of 3, appearing in commercials for companies such as Doritos and McDonalds. She got her first movie role in Shoot the Moon.
In 1982, she landed the role of Jennifer Keaton, the youngest daughter of the Keaton family on the sitcom, Family Ties, which ran from 1982-1989. During that time, she also appeared on various shows, including Battle of the Network Stars, Crash Course and Domestic Life. She also wrote a book called Being Your Best: Tina Yothers's Guide for Girls in 1988.
After Family Ties ended in 1989, she dyed her blonde hair black and continued acting in TV movies such as Laker Girls, Spunk:The Tonya Harding Story and A Perry Mason Mystery: The Case of the Jealous Jokester, until 1995, when she chose to retire from acting, although she made some brief guest appearances as herself on shows like Married..With Children and The Weakest Link.
In 1998, she started a six piece band called "Jaded" with her doing lead vocals and her brother Cory as keyboardist. The band has toured and performed at various gigs across the country.
In 2004, after spending 9 years away from acting, she returned to acting, starring in an on-stage musical, Lovelace the Musical, followed by performing at the Burt Reynolds Dinner Theater in Boca Raton, Florida from 2005 to 2007.
Recently, she returned to television, as a competitor on Celebrity Fit Club, Celebrity Wife Swap and most recently, What Not To Wear.
Appearance on Married...With Children
Edit
She made an appearance in the season 11 episode,
Kelly's Gotta Habit
, as herself, dissatisfied with Bud as her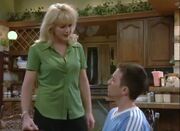 agent. She complains about the fact that he gave the commercial job to Peggy instead of her, even though she would have been perfect for it. She then points out that the last acting job he got her was playing Pebbles in Flintstones in the Park, where it rained throughout the production and she was upstaged by Kelly, who was playing Dino in the production. She then fires him and tells him that, like other women before her, she faked being happy with him.