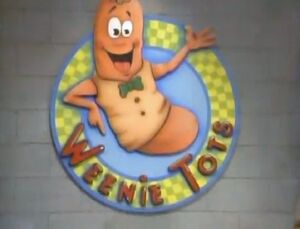 Weenie Tots refer to the food product eaten primarly by the Al Bundy, sometimes Bud, too, as well as the factory that produces them. The brand itself is owned by Tot Industries, which is owned by Earl and Pearl Tot; one of the heirs, their son, Lonnie Tot, attempts to marry Kellly in the series finale, Season 11's "How To Marry a Moron".
Weenie Tots are first referenced in the 5th season episode "Weenie Tot Lovers & Other Strangers" as Kelly tries to be the next Miss Weenie Tot Spokesmodel and win a year's supply of Weenie Tots for the family.
In "The Joke's on Al", June gives Al a large bowl of Weenie Tots that Bud and Kelly take while June discusses spending the night at the Bundy residence. After June heads upstairs, Al reveals his plan to seduce June and then tells the kids to dig in and eat like royals.
Weenie Tots are also seen in the Season 11 episode "Damn Bundys" as The Devil attempts to use them as a form of torture for Al when he goes to Hell as the Weenie Tots will confine a soul to the bathroom for eternity, only to find out that Al loves Weenie Tots and going to the bathroom is the reason Al loves them so much. 
When Peggy asks what exactly is a Weenie Tot, Al is surprised and then proceeds to tell her:
"What's a Weenie Tot?!...Peg, a Weenie Tot is a delicious little hot dog type meat, wrapped in a breaded shell and deep fried in pure lard...its nature's perfect food"
This concludes that Weenie Tots are primarily made from pork or beef, or both, as well as being wrapped in breading and deep fried in lard, leftover fat taken from the abdomen of a pig. Using all this information, we can safely assume that Weenie Tots mostly taste like pork, given all of the pig-derived ingredients in them.
When Al and Kelly visit the factory for her audition to be the next spokesmodel, a wheelbarrow marked "Beaks N Claws" is rolled by in front of them, while she asked if he had noticed that there were no trashcans outside. It is also implied that, in addition to the beaks and claws, the meat may also contain the severed hands of some of the factory workers.
On the box of Weenie Tots, it informs the consumers that there is no nutritional value, its not real food and warns:"Do not expose to air. Will accelerate disintegration process". Peg decided not to heed the warning and proceeds to open the boxes to find a winning scratch off ticket, literally turning all the exposed Weenie Tots into dust by the time Al returns home from work.
Outside of the show, this is would most likely be known as "Pigs in a Blanket", a simple hors d'oeuvre consisting of a bite-size sausage or hot dog (sometimes topped with a slice of cheese), wrapped in up a croissant, phyllo or biscuit dough and usually baked.
Community content is available under
CC-BY-SA
unless otherwise noted.